Parking
Parking garage
Hotel Jomfru Ane has a parking deal with Q-park Palads, where our guests  can get 50% discount on their parking cards.
Q-parks normal price is 20 dkk per hour and 195 dkk for up to 24 hours.
As a hotel guest you just take a ticket at the entrance, park the car and go to the hotel where you can get a discount ticket, which provides you with 50% discount on your parking.
Max-height at Q-park Palads is 190 cm.
Our quick guide to parking can be downloaded here Parking guide
Public parking
In Vesterå, the street behind the hotel, there is public parking. Here the hourly rate is 16 dkk, but only between 8-19 on weekdays and 8-16 on Saturdays. Sundays and the rest of the time is free.
Use your credit card to get a ticket and place it in the front window of your car. To check out the same credit card is used and a receipt is printed.
The system is making sure not to charge money for the periods where parking is free.
Q-park Palads
Q-park palads
Hotel Jomfru Ane
Hotel Jomfru Ane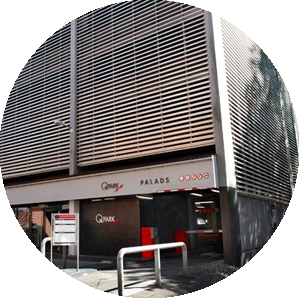 Q-Park Palads Parking house